Koreans live on a peninsula that is called "the shrimp between two whales." Korea is called the shrimp because a majority of the small peninsula's history has been spent thwarting Chinese and Japanese aggression. This situation has ensured that Koreans are a scrappy bunch, something reflected in the Korean proverb "iyeolchiyeol" (이열치열) or "fight fire with fire."
This phrase can also be translated as "overcoming a bad thing with another bad thing" or "controlling heat with heat."
This potentially quite useful information was only a google-search away for Trump, aspiring supreme leader of the U.S.A., when he shot the infamous "fire and fury" tweet out into the world, probably whilst sitting on his golden, tax-payer-funded toilet out.
Unsurprisingly, the North Korean response was an eye for an eye. "We will pacify the US and will respond to fire with fire" said Foreign Affairs Director Cho Son-hui, relaying Kim Jong-un's message.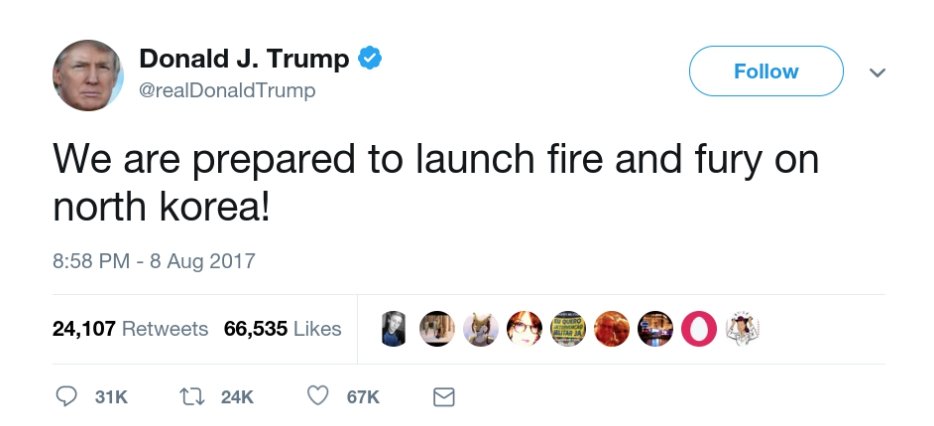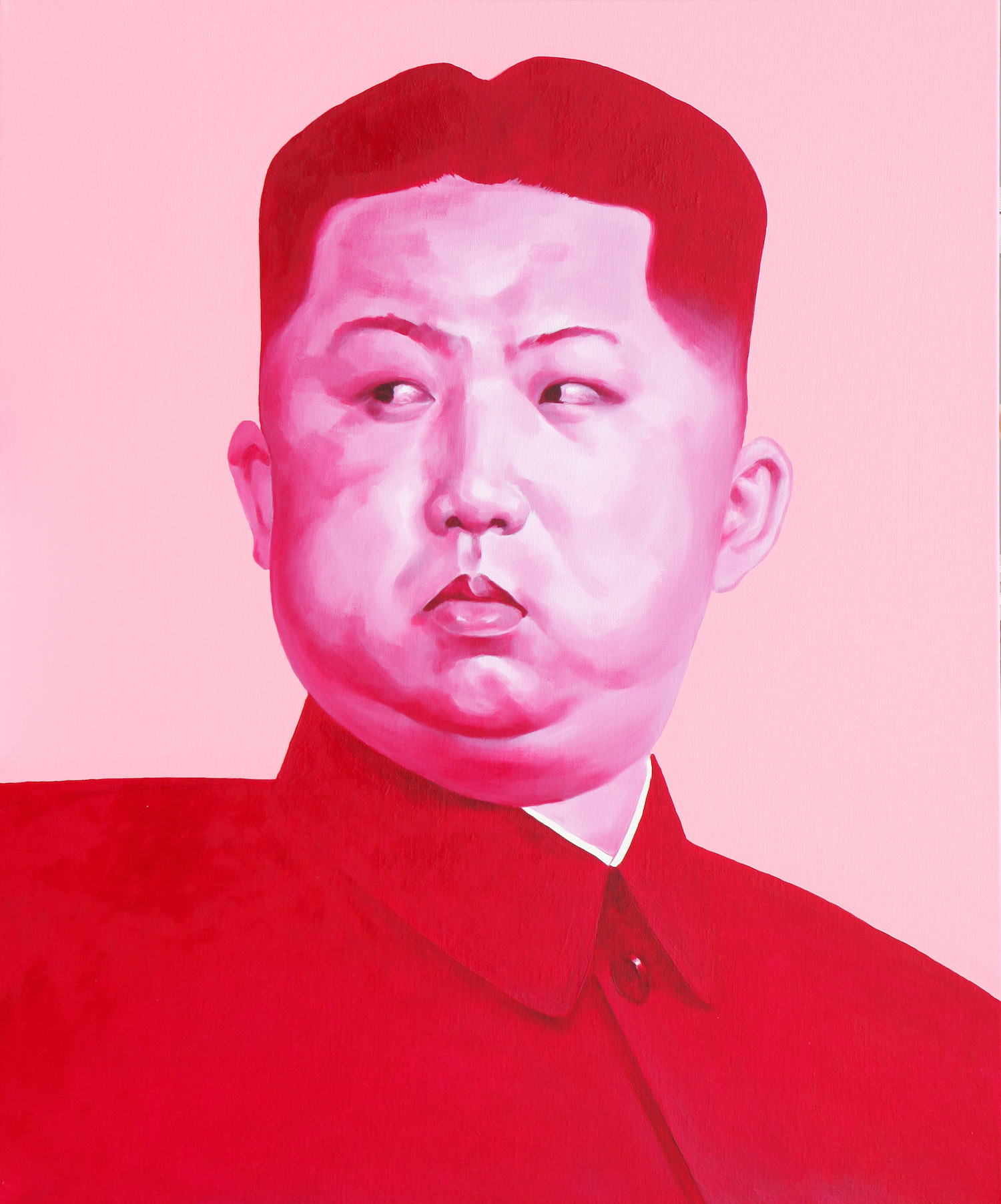 Indeed, this concept of pacifying a force by matching it is wide-ranging and a result of Korea's strong ties with traditional Chinese culture. The balancing forces of um-yang (음양), better known as the ying and yang, and the five elements of sky, earth, water, and fire are ubiquitous in Korean culture and trickles down to their food tradition as well.
This influence is especially evident during the sambok (삼복) period, which marks the hottest part of the summer according to the lunar calendar and is the time when Korea's culinary traditions take a somewhat-masochistic turn.
The theory is that during this sambok period, the human body concentrates blood near the skin to offset the power of the sun. This leaves an imbalance in the body, causing poor circulation in the stomach and weak muscles — an explanation for why people usually are not hungry and feel tired in the dog days of summer.  The sambok solution to this conundrum is to fight the fire of the sun with a fire in your stomach. The choices have historically been between dog meat and Samgyetang (삼계탕), chicken-ginseng soup. The prior has been declining in popularity for a long time, so now Samgyetang is the go-to.
Are you still with me? This is how Jessye and I found ourselves in a long line, under the blisteringly hot summer sun, waiting to purchase a pricey bowl of boiling hot Samgyetang.
The famous restaurant Tosokchan (토속촌) is where we were to get our Samgyetang-fix. I had been to Tosokchan once before, in the spring of 2015, and to be honest the chicken-ginseng soup did not make made much of an impression on me. Actually, I thought it was bland. My comrade in action, the lovely Jessye Rodgers, suggested that since I had tried it during the wrong time of year I should give it another go. In the end, I was glad I did.
When walking into the hanok-style restaurant it is easy to forget about the chaos of traffic which surrounds it. With stone-floored hallways, small gardens, and enough room to seat 400 people, Tosokchon feels like a world unto itself. When we were being seated, we walked by vignette after vignette of families, co-workers, friends, and lovers gobbling up Samgyetang and joyously coating their stomachs with the fire of sambok.
The host led us to a room filled with jovial diners sitting on the floor but then suddenly remembered we are Westerners and redirected us to a lonely room with chairs.
While we waited for service, I looked at the wall covered with literature. It was in Hangul, the native Korean script. I slowly sounded out the consonants and vowels, "i-maeu-rii." As a traveler, one of the central joys of life in a foreign country is the excitement of having unknown words coming out of your mouth and unknown flavors going in.
Rather than being a tourist-trap, as some blogs have suggested, I think Tosokchon is simply foreigner-friendly. The big difference between these two categorizations is that the first serves bland food which bows to international, often western, preferences, while the latter opens up native food-culture to outsiders. Being of the latter category, Tosokchan kindly provides a menu with instructions on how to eat Samgyetang.
I ordered the Ogolgye Samgyetang, or black silkie chicken, and Jessye ordered the regular Samgyetang. The owner of Tosokchon raises his own chickens on a free-range farm.The black fowl, with black skin, flesh, and bones, was originally served only to royal families and off-limits to everyone else.
The Samgyetang arrived boiling in a dolsot, or stone pot.
The chicken broth was thick and nutty, but subtle enough to let the treasure trove of ingredients hold center stage. To be totally honest, the rule banning non-royalty from eating black silkie chicken may have been for a good reason because my commoner taste-buds could not tell a huge difference between the two different chickens.
This slideshow requires JavaScript.
When I pressed my chopsticks into the chicken it seemed as if an entire season's bounty burst from its black flesh. Hidden within the glutinous rice was garlic, jujube, pumpkin seeds, black sesame, walnut, pine, native chestnut, sunflower seeds, gingko, and of course, ginseng.
This slideshow requires JavaScript.
The bitter and strong tasting ginseng root is probably the most central ingredient of the soup. Ginseng is very popular in Korea and seems to be a cure-all for most ailments, although erectile dysfunction is probably the most popular one. Anytime a Korean (man or woman) mentions ginseng to me they always raise their eyebrows, make an exaggerated facial expression, then say it is "good for stamina."
Overall, the process of fighting fire with fire was a sweaty one. By the time I finished, I was literally drenched in my own sweat. It was certainly the first time I have eaten boiling hot soup in 100°F weather! Would I recommend the sambok challenge? Maybe. I did feel better afterwards, but I am not sure if this is because I felt emboldened for eating the soup in such extreme heat or because my stomach had been sufficiently coated and now I was ready to take on the fury of the blazing sun.
This slideshow requires JavaScript.
Those of us from colonial nations often forget that food is medicine and that culinary traditions cannot be separated from the chef's land and its seasons. Although I am not sure whether it is medicine for the soul or for the body, I do know that Samgyetang is medicine, one that is particularly tasty as it goes down.
Before I left Tosokchon I splurged and bought some of the head-swimmingly strong ginseng liquor. In Korea, the more anthropomorphic a piece of ginseng looks the more benefit it is supposed to have for you. The little guy in my bottle looks spindly and whimsical, his limbs fraying off into different directions. I am still deciding whether I should eat him or leave him to decorate my shelf.
Address:
5, Jahamun-ro 5-gil, Jongno-gu, Seoul
서울특별시 종로구 자하문로5길 5 (체부동)
From Gyeongbokgung Station, go straight from exit 2 and Tosokchon will be on your second left at